Welcome to Our Parts Department
Keep it original. Insist on genuine Honda parts. The Parts Department at Foundation Honda maintains a comprehensive inventory of high quality genuine OEM parts. Our highly knowledgeable staff is here to answer your parts inquiries. Should we not carry a part for which you're searching, we can always order it for you and receive it within a timely manner.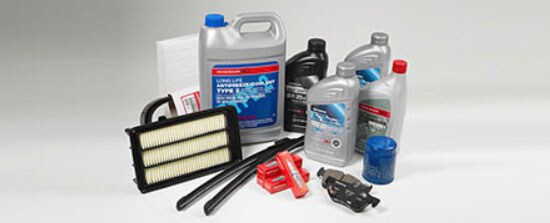 Genuine Honda Parts purchased from us, your authorized Honda Parts dealer, are covered by a 12 month warranty.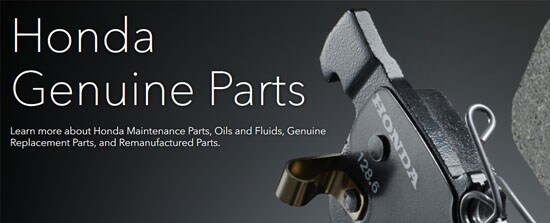 Honda Genuine Maintenance Parts
Scheduled maintenance is a must and genuine parts make the difference. Honda Genuine Maintenance Parts offer a flawless fit to help protect your Honda's superior performance. Each part is engineered and tested to complement the innovative technology built into your vehicle. You can feel the quality. Honda Genuine Maintenance Parts meet original equipment (OEM) standards for endurance. That's quality, finely tuned.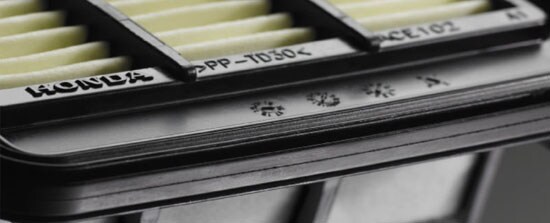 Honda Genuine Engine Air Filters
Better Filtering Means Better Performance.
Engines, like people, need to breathe clean air to stay fit. Without a free flow of clean air, an engine can't perform at its best. It's the job of your engine's air filter to remove dust and contaminants from incoming air before they can reduce performance, increase fuel consumption and cause premature engine wear. As these pollutants build up on the filter, engine airflow becomes restricted, which adversely affects performance. That's why it's important to regularly replace your old, dirty air filter with a new Honda Genuine Engine Air Filter. Made from advanced materials designed for superior filtration and airflow, Honda Genuine Engine Air Filters help optimize performance and fuel economy. Remember, all engine air filters aren't the same. Insist on original Honda quality. Insist on Honda Genuine.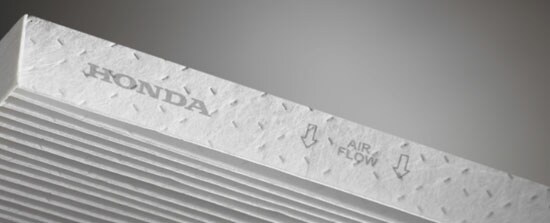 Honda Genuine Cabin Air Filters
Your Air Quality Deserves Honda Genuine Quality.
Pollen. Dust. Airborne contaminants. They're all in the air you breathe every day. Fortunately, you can keep them out of your passenger cabin by inspecting and replacing your Honda's cabin air filter as recommended. Honda Genuine Cabin Air Filters are designed specifically for your vehicle and meet Honda's exacting performance and quality standards. They're engineered to deliver maximum filtration of both incoming and recirculated air. And best of all, they give you the confidence of knowing they meet Honda standards for performance, quality and durability.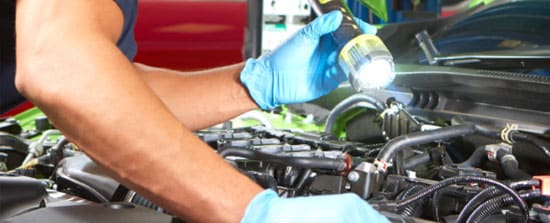 Timing Belts
Original Fit is Critical.

Simply put, your Honda's timing belt keeps your engine's valves and pistons working in sync. A broken timing belt will not only shut down your engine immediately, but is likely to result in engine damage and expensive repairs. With so much at stake, why take a chance? Have your timing belt inspected at the recommended intervals - and at replacement time, insist on a Honda Genuine Timing Belt.* Honda Genuine Timing Belts are designed for exact factory fit to prevent belt slippage, and constructed with original premium materials for maximum durability and crack resistance. Don't put your engine at risk with other brands. With a Honda Genuine Timing Belt, you can drive with confidence.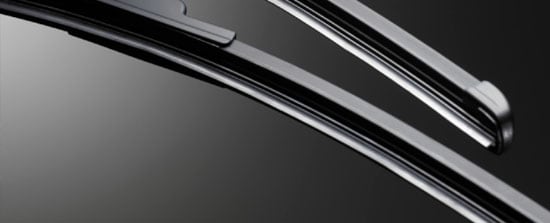 Honda Genuine Wiper Blades
A Clear Case for Fit and Quality.

A clear, unobstructed view of the road is every bit as vital to the safety of you and your passengers as is the grip of good tires or the stopping power of brakes. In other words, your wiper blades are an essential safety feature in all driving conditions. It's easy to tell when tires and brakes need attention, but wiper blades are a different story. Because they wear out slowly over time, you might not know they're worn out until you need them-and that's the wrong time to find out. That's why it's important to periodically inspect and replace them with Honda Genuine Wiper Blades before you find yourself in a risky situation. Honda Genuine Wiper Blades are engineered to strict specifications to provide precise fit, durability and the peace of mind Honda Genuine can deliver.
Honda Genuine Oils & Fluids
Your Honda is built for performance and solid dependability. An integral part of keeping it that way is using new Honda Genuine Vital Fluids at factory recommended intervals.
Over time, fluids lose essential protective properties, and waiting too long between changes can lead to mechanical damage and costly repairs. Honda Genuine Motor Oil, Antifreeze/Coolant, Brake Fluid, Automatic Transmission Fluid and Power Steering Fluid are specially formulated to protect your Honda's mechanical components from harmful deposits, rust, corrosion and oxidation. Please check the maintenance schedules in your owner's manual for recommended fluid change intervals.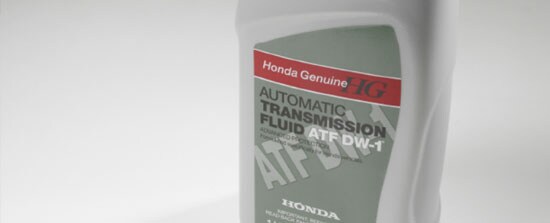 Honda Genuine Automatic Transmission Fluid
Most people don't stop to think about the fluid in their automatic transmission. The truth is that fluid in their automatic transmission has a direct impact on how well their transmission shifts, how smoothly it performs, and how long the transmission lasts. Transmission fluid also has a direct impact on your Honda's fuel economy. Honda Genuine Automatic Transmission Fluid has been thoroughly laboratory-tested, and is specifically formulated to meet the needs of Honda vehicles. It uses the finest ingredients that deliver the ideal friction properties for efficient shifting, economical transfer of power, and a smooth ride with exceptional performance.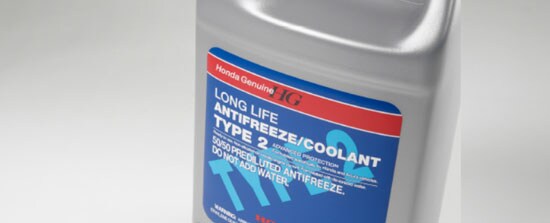 Honda Genuine Antifreeze
All-Weather Protection. All Honda Performance.

When you're driving in extreme temperatures, the last thing you need is engine failure. Whether in extreme heat or cold, Honda Genuine Longlife Blue Antifreeze/Coolant provides long-term corrosion protection to all metal and non-metal parts of your Honda's cooling system and protects against boil over and freezing. Honda Genuine Longlife Blue Antifreeze/Coolant is the only coolant designed specifically for Honda vehicles. Its pre-mixed formulation is so advanced, no coolant service is required for up to 10 years or 120,000 miles. Use Honda Genuine Longlife Blue Antifreeze/Coolant for optimum long-term engine performance.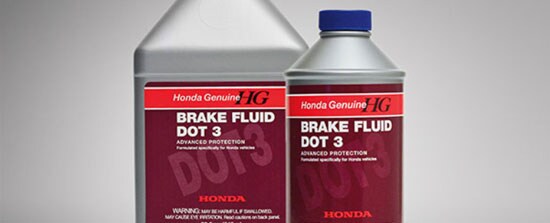 Honda Genuine Brake Fluid
Performs well under pressure.
You put your foot on the brake pedal and the vehicle slows. Sounds pretty simple, doesn't it? The fact is, your Honda's braking system experiences significant stress, especially in stop-and-go traffic. Over time, the brake fluid it uses can become contaminated, or simply lose its effectiveness. That's why Honda recommends replacing brake fluid every three years with Honda Genuine Brake Fluid. Specially formulated to work with Honda braking systems, Honda Genuine Brake Fluid contains moisture inhibitors that help maintain correct lubricity and fluidity in virtually any driving conditions. What's more, its blend of top-quality ingredients is designed to maintain effectiveness for the full three-year period between recommended changes.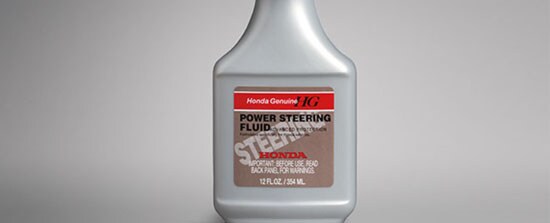 Honda Genuine Power Steering Fluid
Steering sounding wrong? Try the Right Steering Fluid.
Maybe it's hard to believe that using the wrong power steering fluid is a mistake you can hear. But it's true. An inferior power steering fluid can allow friction, and friction makes noise. With a higher viscosity than most other power steering fluids, an exclusive blend of friction modifiers and a special base oil (after all, quality starts with the basic ingredient), Honda Genuine Power Steering Fluid is formulated to counter friction effectively, and is 100% compatible with all Honda power steering system components. Help your Honda last longer and run quieter. Always insist on Honda Genuine Power Steering Fluid.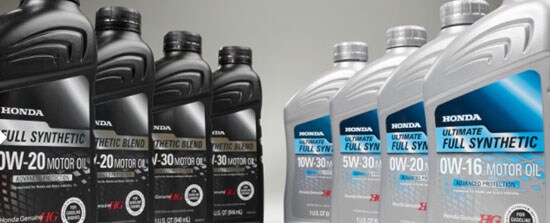 Honda Genuine Motor Oil
Top performance Begins with Top Quality Oil.
Motor oil is your engine's lifeblood. It lubricates your engine and protects moving parts to keep things running right. With the variety of grades and viscosities available, choosing the right motor oil may seem confusing. Honda Genuine Motor Oils are blended and tested to meet strict Honda requirements, and are available in a variety of grades and viscosities, each formulated specifically for use in Honda engines. You see, Honda engines are designed to work best with lower-viscosity motor oils, and oil not specified for them can diminish engine performance. So how do you pick the right motor oil with so many brands and types to choose from? Easy. Just look for the only motor oil with the Honda name.
Honda Genuine Replacement Parts
When it comes time to maintain your Honda, there's only one right way to do it: Use Honda Genuine Replacement Parts. Honda Genuine Replacement Parts are designed and engineered specifically for your Honda vehicle. They're built from premium materials that meet strict Honda quality and original performance standards. Parts such as your battery, tires, brake pads, rotors and belts must be in excellent condition to deliver the acceleration, handling and responsiveness you desire. For ultimate performance, there's no substitute for Honda Genuine Replacement Parts.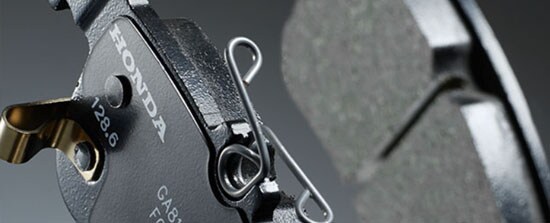 Honda Genuine Brake Pads
Stopping is the ultimate commitment.
It stands to reason that Honda Genuine Brake Rotors function best with Honda Genuine Brake Pads. Particularly since Honda brake pads are extensively tested on Honda vehicles in the most intense braking situations and extreme environments. Made from a balance of hard and soft materials, Honda Brake Pads can effectively help prevent premature disc wear and minimize noise.
Precisely engineered and manufactured with state-of-the-art materials for superior performance, proper wear and long life. Specially designed to dampen noise and reduce vibration. Includes high-insulating shims and specially formulated grease.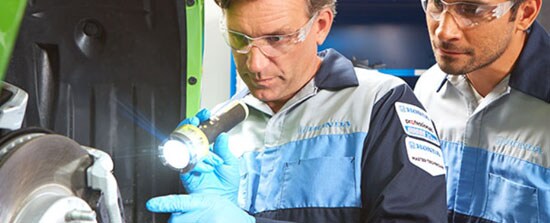 Honda Genuine Brake Rotors
Shaped to the exacting standards of Honda.
Brake rotors are vital to dissipating the heat that comes from the pads every time you brake. Honda Genuine Brake Rotors are built to take that heat time and again for lasting performance and reliability. They're made with the optimum mix of materials and compounds to safely withstand long periods of wear and to help prevent overheating and warping.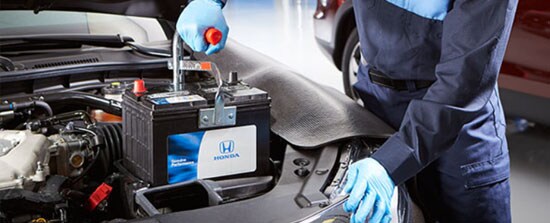 Honda Genuine Replacement Battery
Quality Starts with Power that lasts
At the center of your electrical system is the battery, powering your air conditioner, sound system, headlights, instrument panel and other requisite components. Even in ideal conditions, all car batteries wear down over time - and the demands of extreme summer heat and brutal winter can shorten a battery's lifespan even more. With batteries, dependability is of the essence, so choose Honda Genuine Replacement Battery. Each includes a 100 month limited warranty, 3 years free replacement.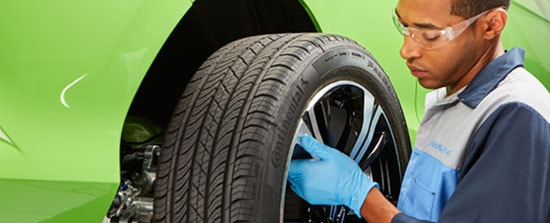 Honda Genuine Tires
Tires play a vital role
Tires impact your vehicle's performance, fuel economy, ride, comfort and safety. As the miles add up, normal tread wear can gradually diminish your Honda's handling and performance, especially in wet driving conditions. Your Honda technician can quickly check your tires for tread wear and correct air pressure. And when its time for replacement, count on your Honda Authorized Tire Center to install just the right tire for your specific vehicle.
Honda Genuine Remanufactured Parts
Although no part can last forever, we are able to remanufacture many of our genuine parts to like-new standards through a sophisticated process. The Honda remanufacturing process involves a complete disassembly, full-scale cleaning and inspection of every component. Parts not up to our specifications are replaced with new Honda Genuine Parts. Once reassembled, testing is designed to assure that the remanufactured part performs at the same high level as its brand new counterpart.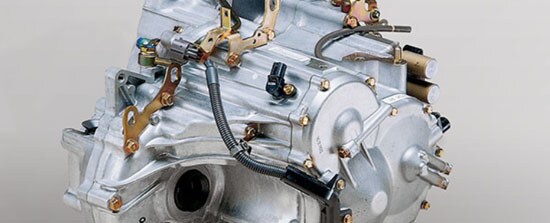 Honda Genuine Remanufactured Parts that we offer include:
    Air Conditioning Compressors
    Alternators
    Drive Shafts
    Starter Motors
    Power Steering Pumps
    Power Steering Racks
    ABS Modulators
Every Honda Genuine Remanufactured Part comes backed with our 3 Year / 36,000 miles nationwide parts replacement limited warranty.* And unlike many other parts warranties, ours includes labor - one of the best warranties in the business.
Contact us for complete warranty details